Former N.Y. Gov. Pataki finding his rhythm in N.H.
Saturday, May 9th, 2015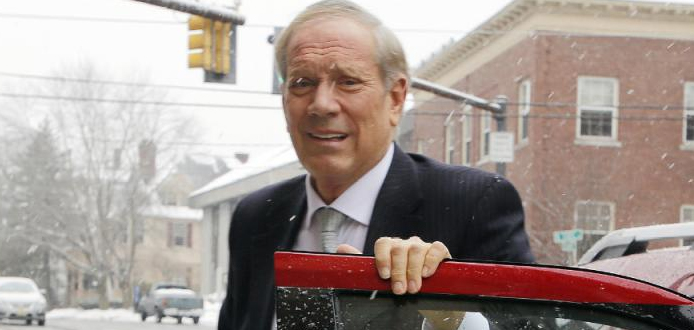 It's late April, and George Pataki, the former governor of New York, is sitting at True Brew Barista in Concord, waiting on a cup of coffee in between stops on what was then his eighth trip to New Hampshire since last fall.
He was back again just this Tuesday for his ninth visit – which included a town hall at New England College – and he's expected to return again by the end of the month.
As it stands, Pataki's been here more than lots of his peers in the Republican field, and his PAC boasts that he's the first one to have visited all 10 counties so far this election cycle.
Pataki's also one of the few potential Republican candidates who's set up an official steering committee in New Hampshire and one of the few to run ads on local television stations. His "We The People, Not Washington" political action committee has put in some $75,000 to air a message calling on Republicans to avoid becoming distracted by debates over social issues such as abortion and gay rights. "They're a distraction," Pataki says in the ad, "and will only help elect Hillary."
His PAC has an office space in Manchester, and he's been reaching out to local politicians and party elites for months, trying to build the connections needed to run a viable campaign. Along the way, he's also been ticking off many of the requisite New Hampshire primary checklist items: town hall meetings, private conversations with prominent activists, and stops at the Red Blazer Restaurant, Quality Cash and a host of other Granite State establishments.
Sitting at the coffee shop last month, Pataki took note when Louis Armstrong's voice started carrying through the room. He danced to this tune at his daughter's wedding, he mentioned, but that's not the only reason he likes it now.
"This could be the theme song of our campaign," Pataki said. " 'It's a Wonderful World.' And it's a great country. And we just have to recapture our government so that people have faith and the confidence in their future and in the country's future and in the world's future. I have no doubt that can be done."
For this optimist to have a shot at seeing that vision through, of course, he needs to first win the Republican nomination for president. (Well, first he has to declare his candidacy, which he will likely do in New Hampshire this month. And then he has to win.)
And to win, Pataki needs to stand out in what is shaping up to be one of the most crowded fields in recent history. With so many heavyweights gobbling up the national, if not also the local, spotlight, Pataki's biggest challenge at the moment is getting people to notice that he's in the race – and that he's taking it seriously, for that matter.
It might seem like a tall order for this particularly tall candidate – about 6½ feet, in fact, which he boasts is even taller than Abraham Lincoln. But Pataki and his allies know they're in for a challenge, and they're confident that he's powered through similar ones before.
"He's been an underdog his whole career," said Bruce Breton, a Windham selectman and a member of Pataki's New Hampshire steering committee. "He's a fighter. And he'll keep scratching and clawing for every vote."
For Pataki, though, "scratching and clawing" in New Hampshire has largely meant just the opposite: He's earned a reputation among supporters and some of the voters he's met with so far, even those who disagree with him politically, as a genuinely likeable, down-to-earth guy.
Pataki started earning the attention and respect of Nancy Stiles, a state senator from Hampton who's also on his steering committee, when he reached out to offer help with her campaign last fall. The two went knocking on doors together in Seabrook, and Stiles recalls being struck by his affability and authenticity ever since.
"He's just not a pretentious man," Stiles said. "He just does the job, you know?"
Repaying that support as he gears up for campaign of his own seemed like a no-brainer for Stiles. She especially appreciates his experience leading New York during the period after Sept. 11, 2001, and his commitment to making national security a priority.

In his time in New Hampshire so far, Stiles and Breton noted, Pataki has been doing exactly what he should be doing: talking to as many people as possible, in as many places as possible, without the kind of fanfare that accompanies more prominent campaigns.
Indeed, at New England College the other day, Pataki lingered around long after his town hall wrapped up – pausing when a student asked for a photo, making sure reporters got all of their questions answered, letting attendees follow up on questions they'd asked him during the event. Pataki's team is hoping that willingness to take it one person at a time will serve him well in the long run.
"The polls don't necessarily show how hard he's been working," Breton said, "but as the smoke clears, you'll see him rise to the top."
And beyond the opportunity to interact more intimately with voters, Pataki said he's also drawn to New Hampshire because it gives him a chance to appeal to people beyond the Republican base.
"You know, you want to get the nomination, but the goal is to change the country and lead the country – and to do that, you have to win the general election," Pataki said at the coffee shop last month. "In New Hampshire – because you're not just appealing strictly to Republicans, although that's your primary group that you need and want – you also have the opportunity to appeal to an electorate that's critical for Republicans to win next November."
As he finished that thought, the song at True Brew switched over: "What you want, you know I got it. . . . What you need, you know I got it. . . ."
Again, Pataki didn't miss an opportunity to profess his appreciation for this song.
"I hate to sound like the Clintons," he said, nodding up to the speakers, "but I love Aretha Franklin."
Signs seem to indicate that New Hampshire voters will be seeing even more of Pataki in the months ahead. In the meantime, his plea might as well be this: All he's asking for is a little respect.
(Casey McDermott can be reached at 369-3306 or cmcdermott@cmonitor.com or on Twitter @caseymcdermott.)